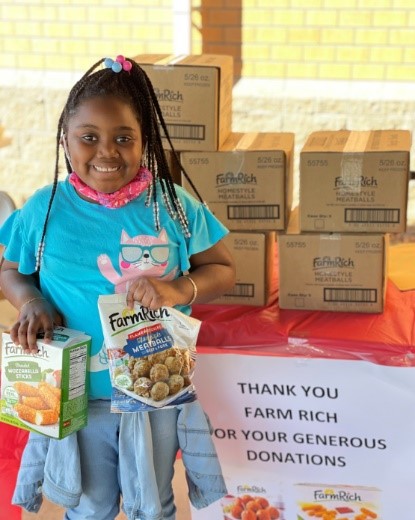 As students return to the classroom for the first time in a year due to COVID-19, Farm Rich ensured students at Stoney Creek Elementary in Charlotte, N.C. arrived back to school with new technology and delicious snacks!
Students were surprised to find new AVID Education AE-36 Classroom Headsets waiting for them, thanks to a donation from Farm Rich. Farm Rich donated 350 new headsets to students and teachers to help meet a growing need at the school-along with new JBL Bluetooth speakers for use in outdoor physical education classes and provide music for carpool and bus lots as students arrive and depart.
To enjoy after the bell, Farm Rich donated more than 800 packages of snacks (Mozzarella Cheese Sticks and Meatballs) for the families of Stoney Creek as a part of a food drive-through-yum!
"Our mission at Stoney Creek is to remove barriers, ignite curiosity and inspire students," said Susannah Barr, Principal of Stoney Creek Elementary. "The headsets and speaker donations strengthen our programs and provide much-needed supplies for our students and faculty. We are very grateful to the Farm Rich team for their generosity."
Stoney Creek is a community school in the University Area of Charlotte, N.C., representing varied youth and supporting outstanding academic goals and social and emotional needs. The school has approximately 770 students in grades K-5.
For more information about Stoney Creek, visit https://schools.cms.k12.nc.us/stoneycreekES/Pages/Default.aspx.